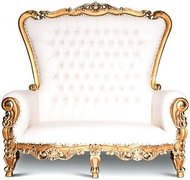 Throne LoveSeat - White w/Gold Trim

Setup Area: 7ft long x 7ft wide x 7ft tall

Please call to reserve this item.


Book this luxurious Love Seat for your wedding reception, babyshower, or special celebration. The white leather seat is fit for a king and queen. It has white leather fabric with a shiny gold trim. Take your event to the next level with our fashionable Throne Love Seat!